Accreditation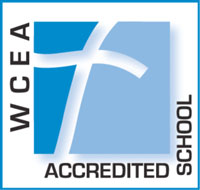 Blessed Sacrament Catholic School is accredited by the Western Catholic Educational Association (WCEA). WCEA accredits Catholic elementary and secondary schools in nine western states (26 (arch) dioceses) and the US Territory of Guam. WCEA co-accredits and is in partnership with three Regional agencies (WASC, NAAS, NCA CASI) and two private agencies (CAIS and HAIS). WCEA began in 1957 in San Francisco and has a long a successful history of assisting school improvement through the accreditation process.
Blessed Sacrament Catholic School holds the highest level of accreditation, a six-year term, with the Western Catholic Educational Association.
We follow curriculum guidelines established by the State of Utah and the Catholic Diocese of Salt Lake City.
Blessed Sacrament Catholic School Awarded Top Accreditation Status
The WCEA team visited the school March 23-25, 2015. During this time, they met with the various groups that make up the Blessed Sacrament Catholic School community, spent considerable time in the classrooms, and also interviewed parents and students. Here is their report.
Schoolwide Learning Expectations
I am a respectful, peaceful and prayerful student who
Demonstrates an attitude of respect toward themselves, others and the environment;
Practices knowledge and understanding of Catholic teachings and values;
Works toward peace and justice through kindness and service;
Prays daily and takes an active part in liturgical services.
I listen, speak, and write respectfully with others through
Listening and responding actively and respectfully;
Speaking and writing effectively;
Working cooperatively and productively with others.
I watch, ask, and learn about my world through
Utilizing critical thinking skills through observation, discovery, and inquiry;
Applying curriculum skills to real life situations;
Demonstrating strong, independent study habits.
I care for God's creation and those who live in it through
Responding to the needs of those less fortunate
Demonstrating Community of Caring Values through: Caring, Respect, Responsibility, Trust and Family;
Actively caring for the environment.