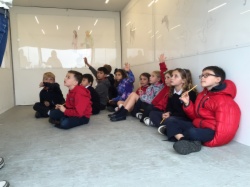 As seen in the Intermountain Catholic
SANDY — The Utah Museum of Contemporary Art's Art Truck visited Blessed Sacrament Catholic School on Oct. 29, bringing an exhibit featuring Mary Toscano.
The Art Truck is recognized as the best educational program in the state and is the only traveling educational art exhibit of its kind in Utah. It brings contemporary art created by local and national artists directly to schools and community venues across the state. Each on-site visit by the Art Truck includes a trained museum educator who leads students through the exhibition, while teachers are provided with lesson plans to supplement the tour.
All the Blessed Sacrament students had the opportunity to visit the Art Truck exhibit. Toscano led the students through the truck and explained that her pencil drawings are a way to ask questions about herself. Her images are very simple and provide only the most essential information.
The tour made connections between various elements of art and reading/language arts such as line, emphasis, composition, setting, characters, plot and metaphor.
The exhibit also included several large-scale drawings displayed both inside and outside the truck. Students participated in a collaborative art piece with dry-erase markers and filled in gaps in the artist's image to create stories of their own experiences.
"This was a wonderful opportunity for students to see the work of a contemporary artist," said Marcy Mullholand, Blessed Sacrament art teacher. "Many students do not have the chance to visit art museums in person. The Art Truck brings the museum to the students and exposes them to new forms of art. It is meaningful for the students to be able to see and make the connection between visual arts and reading/language arts."
Courtesy of Blessed Sacrament School