Community of Caring

Community of Caring is a comprehensive education program focusing on whole school improvement and creating tools to sustain that improvement. The work is based on five (5) core principles: Caring, Respect, Responsibility, Trust and Family. Community of Caring's goal is to create caring school climates embedded with core ethical values. To achieve this goal, proven strategies are used that reach across student age groups, are effective with professional staff, and involve families to foster positive relationships. We acknowledge that many schools model these core values and character principles. With this understanding in mind, we design and create action plans that are specific to the needs of individual schools.
Murals for a Community of Caring
The students have created two murals over the past three weeks as part of our "connect" and "getting to know you" activities. Creating a community of caring at Blessed Sacrament Catholic School involves the students getting to know themselves and then sharing with their classmates and the rest of the school what makes them unique.
The first mural is located inside the gym and consists of all students' handprints encircling a photo of the staff. This never ending circle signifies unity among the students and a connection to the staff.
The second mural is hanging outside the gym and was created with strips of paper each with the name of a student or staff member. The strips were then decorated with something special about that person. Mrs. Mullholand then wove the strips together to signify the interconnectedness of our school community and showcases the valuable contributions that each student brings to school each day.
We invite you in to take a look at these murals. Feeling a sense of belonging to a team and building a sense of community promotes a healthy environment and leads to academic excellence.
Character Tree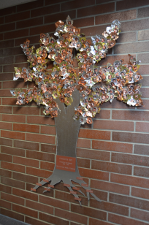 Blessed Sacrament Catholic School is the recipient of two Community of Caring Utah Innovative Practice awards for the Character Tree that was created by all of the students under the direction and guidance of Mrs. Mullholand and for the portfolio, "Reflections in Faith, Academics, & Character." The portfolio contains a short reflection and/or photographs or drawings from each student in an area of faith, academics, or character. The portfolio will be created each year and will be somewhat of a history book on what transpired over the school year. Thank you to all students and faculty for making these awards possible. The awards will be presented during an award ceremony at the University of Utah on April 6, 2011.
Read the article published in the Intermountain Catholic
A little about the Community of Caring and why we at Blessed Sacrament Catholic School feel that it is a worthwhile organization to be a part of.
Community of Caring is a K-12, whole school, comprehensive character education program with a unique focus on disabilities. Community of Caring was founded in 1982 by Eunice Kennedy Shriver and has been adopted by almost 1,400 schools nationwide and in Canada. It is research-based and has a proven record of accomplishment. Community of Caring believes that the universally accepted ethical values of caring, respect, responsibility, trust and family are the foundation on which responsible decisions and behaviors are based. Community of Caring believes that creating caring relationships and a caring school community while teaching values across the curriculum is essential in creating safe and healthy learning environments in which all children can succeed and prosper academically and ethically, including students with disabilities.