3rd Grade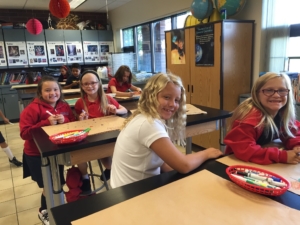 Religion
Instruction in our Catholic faith is the emphasis for 3rd Grade religious studies. We learn how God calls us to faith, about His awesome goodness, and how to talk with Jesus.  Students learn about the Apostles Creed, our special Feast Days and holidays in the Liturgical calendar.  Students attend Mass weekly.
English and Language Arts
Reading is fun and throughout the year we study several different literature genres, concentrate on different readings strategies, improve comprehension, decode longer words, learn new vocabulary, and concentrate on our spelling, grammar, and writing skills.
Mathematics
Third-grade is a transitional year in math. Our subject units include: addition and subtraction of greater numbers, place values to the millions, money and time, data and probability, multiplication concepts and facts, division concepts and facts, geometry and pattern, fractions and decimals, and measurements.
Science
In 3rd Grade, we study Life, Earth, and Physical Science.  We look at how all living things interact. We study space and weather and investigate matter, energy, forces in motion and physical space.
Social Studies
In Social Studies, we cover six units involving concepts about communities.  Our students learn about communities through geography and history and look at citizens and government, people in communities, and what it means to work in communities.  Our 3rd Grade students are introduced to the history of America and our government.
Computer Science
Students improve keyboarding skills in 3rd Grade.  In addition to keyboard practice, we use Google searches to find research topics relating to computer lab projects.  Students create computer based projects on various topics and keyboarding speed tests begin.
Spanish
Our students continue to expand basic vocabulary necessary for a conversational second language. Homework is assigned and students prepare for tests on course material to ensure mastery of the subject matter.  Students practice memorizing prayers in Spanish.
Art
Exploring the basic art foundations such as line, composition, balance and shape is part of our 3rd Grade art curriculum. Students learn color theory and express themselves through drawing, pointing, three-dimensional work and printmaking.
Music
Our 3rd Grade students expand their knowledge of various music elements through singing and playing instruments. More focus is given to reading notation and learning audible scales. Students continue to explore the music, instruments and traditions of other cultures. Students learn about composers and various styles of music.  All students perform in our annual Christmas Program and Spring Concert.
Library
In Library, we challenge your child to expand his or her reading comprehension skills to accurately predict the end of stories. Students learn how books are organized beginning with the table of contents.   The basic biographies, autobiographies and collective biographies are part of our focus.
Physical Education
Students in 3rd Grade demonstrate cooperative play with individual partners and simple team games.  Students participate in movement, stunts, rhythm and fitness. Third-grade students are taught to appreciate God's gift for good health and fitness.