6th Grade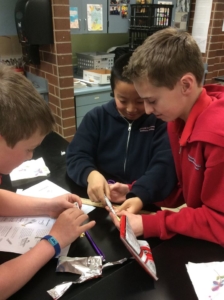 Religion
Faith formation continues as students develop a deeper understanding our core Catholic beliefs including the Holy Trinity, the Paschal Mystery, the Sacraments, theological virtues, Hebrew Scripture, Exodus, Passover, Sabbath, Advent, Lent, a variety of prayer sources. We spend time outdoors reflecting and praying while in our Blessed Sacrament Prayer Garden.  During Lent, we meditate on the Stations of the Cross.  Middle School students attend Mass weekly, and participate in planning the liturgy of the Mass.
English and Language Arts
Standard English grammar is taught and integrated into the Language Arts curriculum as well as other content areas. Students use process strategies, particularly the 6+1 writing trait standards, before, during and after composing. In 6th Grade, we require intensive formal  instruction in reading comprehension strategies as well as comprehensive instruction in writing  process. The curriculum continues to support the development of listening and speaking skills in informal situations, and introduces our students to formal speech and presentation concepts.
Literature 
Students use comprehension strategies during reading to actively construct the  meaning of text. We read and discuss functional, informational and literary texts from different periods, cultures, and genres. Sixth-grade students begin the year with the study of Walk Two Moons, by Sharon Creech.
Mathematics
We offer grade level math and pre-algebra to our 6th Grade students. By the end of 6th Grade, all students master the four arithmetic operations with whole numbers, positive decimals, and positive and negative integers. Though the year, we reinforce previously taught math concepts regarding the relationship between fractions, decimals, and percents.  Students create, evaluate, and simplify expressions, and solve equations involving two operations and a single variable.  Our students solve problems involving unknown angles in a triangle or quadrilateral, use  properties of complementary and supplementary angles, and solve problems using the formulas to find the circumference and area of a circle.
Science
Project-based inquiry science is at the heart of the our science program.  We encourage our students to investigate, explore, design, research, test, analyze, collaborate and share ideas.  Students study physical geology, astronomy and weather.  In astronomy, specific areas of study include: Earth, sun, and moon, exploring space, the solar system, stars, galaxies, and the universe. We follow up with a trip to Clark Planetarium, and a star party held at our school sponsored by the University of Utah Physics Department.  We also explore the origin of life, its domains and kingdoms, viruses, bacteria, infectious diseases, protists, and fungi of microbiology. We study the properties and behaviors of heat, light, and sound, incorporating  several experiments and demonstrations, including an "insulated water bottle competition." Sixth-grade students participate in the annual school, diocesan, and state science fairs.
Social Studies
Students explore the architectural features of Ancient Egypt, Ancient Greece, Ancient Rome, and Ancient Asia while learning about and building an appreciation for the development and architecture of these civilizations.
In Social Studies, we incorporate the Reality Town program provides an excellent hands-on opportunity to teach our 6th and 7th Grade students about fiscal responsibility. As the students try to work within their income and experience the challenge of paying one month's worth of bills on their income, they gain a greater appreciation for what they will experience as adults. Reality Town teaches students about the importance of living within their income and differentiating between a need and a want as well as the value of education. We start the student off on a fact finding mission on their computers. Students investigate career choices including fields of study, work environment, salary, and educational requirements.
Spanish
Students in Middle School learn about Spanish-speaking countries and participate in a variety of special cultural celebrations sampling authentic foods.  Student continue learning prayers in Spanish and about Spanish Saints.
Art
Students explore a variety of art materials while learning new techniques and processes. Greater emphasis is placed on creating depth, perspective, and proportion using shading techniques. More advanced forms of print making and painting are explored in addition to collaborative projects. Students work with various kinds of art relating to particular cultures, times, and places.
Music
In 6th Grade music classes, we review note reading, apply note reading, play instruments, practice singing techniques, and performance.All students perform in our annual Christmas Program and Spring Concert.
Exploratory
The Middle School Exploratory program gives 6th through 8th Grade students the unique opportunity to "explore" a wide variety of subjects.  Based on student interests, we learn about everything from interior design and origami to game design and photography. The second semester of Exploratory is dedicated to learning about different aspect of film making and film history. We end the year with a special Middle School Film Festival to showcase our student-made movies.