8th Grade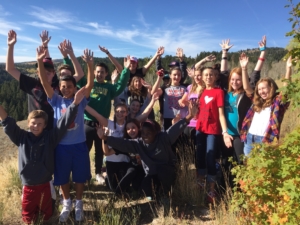 Religion
Our 8th Grade Religion program focuses on both the message of Jesus and preparing students to receive the Sacrament of Confirmation.  Our students have many opportunities to engage in community service projects. Part of our faith formation journey includes personal reflection about our actions in response to answering the Gospel call of serving others. Students pray the Rosary and attend Mass weekly.
Language Arts
Language Arts at Blessed Sacrament Catholic School includes Literature and English. We follow Diocesan standards and curriculum to teach students in the following areas: comprehension strategies before, during, and after reading; vocabulary building; independence in reading; reading across genres; using writing process strategies and the 6+1 traits writing standards; and the use of process strategies during public speaking. The text, Voyages in English, is a rigorous grammar program with ongoing assessment: There will be in-depth study of unique writing genres, with writing skills lessons. Students work on speaking and writing practice that enables them to communicate with clarity, accuracy, and ease, and have many opportunities to apply skills using technology. Grade 8 students are required to submit a research paper using the MLA format.
We require 900 pages of independent reading per quarter.  As part of our study of literature, students complete oral reports, book projects, participate in reading groups, and complete reading logs each quarter. Students reflect orally and in writing on their reading as they develop critical reading skills. Students are assessed through observation, conferencing, classwork, and written tests.
A Prentice Hall literature text is used. This text provides extensive instruction in reading strategies including predicting, questioning, re-reading, scanning, drawing inferences, determining word meaning from context, using prior knowledge, identifying main ideas, and summarizing. Assessment of skills occurs in post selection materials. The text, Vocabulary In Action, is be used. Weekly lessons designed to increase students' literacy are assigned.  Weekly assessments are required.
Our 8th Grade class novel is To Kill a Mockingbird, by Harper Lee.
Mathematics
Our 8th Grade students learn to analyze and represent linear functions for soling linear equations.  We teach geometry and measurement and methods for analyzing two and three dimensional space and figures using distance and angle.
Science
In Science, we give students the skills and practice needed to solve real-world problems.  Students implement the process of collecting and analyzing data, working collaboratively, running experiments, writing explanations and making presentations. Students study the science of falling objects, energy, genetics and the chemistry of air quality. We focus on the earth's crust and interior, the structure of matter and organisms, and the functions of cells.
Every other year, our 7th and 8th Grade students have the opportunity to attend the Teton Science School in Jackson, Wyoming for four days in September.  The Teton School provides a hands-on science lessons and fosters leadership skills while building awareness of the unique natural history of the Greater Yellowstone Geo-ecosystem. Our  students experience lessons in field ecology, geology, animal tracking, field journaling, sketching and much more.
Social Studies
We continue our study of United States history from the Age of Exploration through Reconstruction and the Western Movement. Particular emphasis is put on the 18th and 19th centuries.  Current events are a vital component of 8th Grade Social Studies as well as having geography and relationships between events integrated through the course.  Students will understand how the social teaching of the Catholic Church is a treasure of wisdom for building just societies.
Library
Advanced research skill development is the focus for the 8th Grade students.  In class, we discuss how self-assessment in the thinking and writing process helps formulate new ideas for research assignments. Students learn the importance of refining writing skills for becoming more confident in their research skills for personal and professional endeavors.
Spanish
Students learn the Our Father "Padre Nuestro" and continue advancing reading, writing, and comprehension.
Music
Freedom of expression is realized though body percussion, singing, and performance.
Art
Gesture drawing, thumbnail sketches, and in-depth color theory are covered in 8th Grade art.  Students express themselves through drawing, painting, three dimensional work and printmaking. The human figure is central to 8th grade art exploration as well as the study of specific artists and art history periods.
Computer Science
The focus of 8th Grade computer curriculum is on preparing for high school computer courses and uses.  Students work with spreadsheets, formulas, and charting and graphing tools. Group projects on various topics are included and students are encouraged to focus on content, group communication, process, and presentation.
Exploratory
The Middle School Exploratory program gives 6th through 8th Grade students the unique opportunity to "explore" a wide variety of subjects.  Based on student interests, we learn about everything from interior design and origami to game design and photography. The second semester of Exploratory is dedicated to learning about different aspect of film making and film history. We end the year with a special Middle School Film Festival to showcase our student-made movies.
Physical Education
Through physical activity and discussion, we promote healthy growth, development and  maintenance through physical education.  Students identify the components of good health and skills related to activities for developing lifetime respect of exercise and sports.