After School Programs
 
Throughout the school year, Blessed Sacrament Catholic School offers a wide range of extracurricular activities to compliment every student.   Specific registrations for the different activities are announced through our weekly email announcements and posted on our school calendar here and registration forms can be found on our website.   Activities fill up quickly, we encourage you to register early and promptly.
Art Club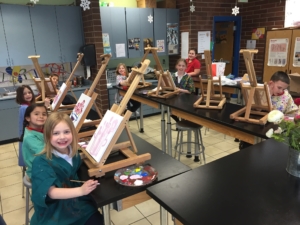 The Blessed Sacrament afterschool Art Club is offered twice per month for one hour after school during the school year. Students in Kindergarten through 8th grade are invited to join. Art Club is a fun way for your student to explore his or her creativity through additional art experiences outside of the weekly classroom curriculum. Participants are involved in a variety of art activities utilizing various materials. We create art projects for ourselves as well as for the school community. Art Club allows children to take their art to a higher level, develop new friendships, build self- confidence, and be a part of a community.
Baseball
Blessed Sacrament Instructional Baseball is offered in the Spring.  Registration is open to all students in Pre-K through 8th grade. All students make the team and all students play. Blessed Sacrament teams play  against other teams within the local community. Teams practice on the school field, approximately one time per week.
Bobcat Chorus Grades 1st-4th Grades
Students participating in our Bobcat Chorus are in 1st-4th Grades. Choristers are given the opportunity to cultivate a love of music and build self-esteem through achievement and teamwork. Emphasis is on natural vocal production while learning good singing techniques. Chorus members learn how to read choral music and experience both unison and part-singing. Students have fun building their confidence as they share their love of music, improve their talents and perform for others. We offer two eight week sessions with the first in the fall and the second in the spring. Choristers practice once a week and perform at the Christmas and Spring Concerts.
Bobcat Choir Grades 4th-8th Grades
Students participating our Bobcat Choir develop leadership, find accomplishment, self-worth, teamwork, pride and an appreciation of choral music. Choir students are hard-working, dedicated and passionate. Emphasis is on learning how to read choral music and learning to sing expressively in two and three-part harmony.  Choristers have multiple performances throughout the school year. While having fun, students gain both knowledge and experience of being in a performing group. The Choir runs for a full year, September through May. Practices are once per week. The Choir sings during the All School Masses and performs at the Christmas and Spring Concerts.
Chess Club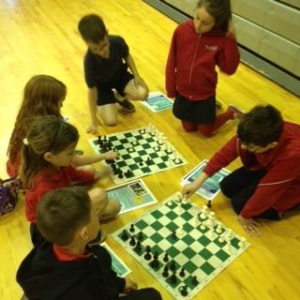 Our club is open to players of every level. Whether your student is a Chess playing pro, a Chess amateur or just likes to watch and learn, Chess Club is where its at. Students in Chess Club learn the game basics and build on skills and have the opportunity to participate in a tournament. Chess is proven to help students with other classes when they learn to use their minds differently. Chess players build concentration, engage in creative thinking, feel better about themselves and their game strategies.
Community of Caring Club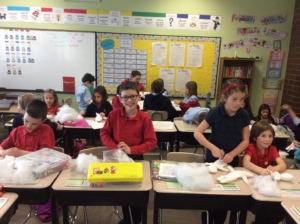 The Community of Caring Club is a student led after school program designed to empower students to develop our character education initiative projects.  The integration of character education and the continual emphasis on strengthening our character education initiatives has earned Blessed Sacrament Catholic School a "National School of Character" designation from the Character Education Partnership (CEP). Our Community of Caring Club's character education initiative projects have earned eight National Promising Practice Awards from CEP.  Students participating in our Community of Caring Club play a significant role in foster community among their peers.  Students meet twice a month to discuss ideas, formulate plans, and carry out the mission of character education and service learning at our school. Through these endeavors, we continue to expand the scope of the Character Education program and encompass a greater portion of the community in the overall goal. We believe that character education is of great importance, existing alongside the daily role of academics.  Community of Caring Club is open to students in Pre-K through 8th grade.
Girl Scouts
Girl Scouting at Blessed Sacrament School is parent run and also includes girls from the parish. Girl Scouting aims to empower girls and to help teach values such as honesty, fairness, courage, compassion, character, sisterhood, confidence, and citizenship through activities including camping, community service, learning first aid, and earning badges by acquiring other practical skills. Girl Scouts' achievements are recognized through rank advancement and by various special awards. Girl Scouts use resources wisely, make the world a better place, and believe they should be a sister to every Girl Scout.
Boy Scouts
Boy Scouting at Blessed Sacrament School is parent run and also includes boys from the parish. The Boy Scout goal is to train youth in responsible citizenship, character development, and self- reliance through participation in a wide range of outdoor activities, educational programs, and, at older age levels, career-oriented programs in partnership with community organizations. For younger members, the Scout Method is part of the program to teach typical Scouting values such as trustworthiness, good citizenship, and outdoors skills, through a variety of activities such as camping, aquatics, and hiking.
Golf Club
The Blessed Sacrament School Golf club offers students from Kindergarten through 8th grade a basic exposure to the game of golf.  The program classes include ways to strengthen kids overall fitness and coordination and the basic fundamentals of the golf swing. Instruction includes putting, chipping and full swings as well as golf course rules and etiquette. Our goal is to engage the kids in an exciting way to enjoy physical activity.  We hold classes on the school field unless weather requires us to meet in the gymnasium.
Karate
Kyu-Shin-Ru Karate classes are offered to our students. Classes are for all ages five years and older. This traditional Japanese teaching style focuses on training, strength, and flexibility.
Mad Science After School Program
This program compliments the in-school science curriculum and is offered to Kindergarten through 5th Grade. Mad Science offers hands-on science experiences to children, covering such topics as rocketry, magnets, polymers, chemistry, nature, space exploration and even the science of toys. Children engage in exciting activities, watch spectacular demonstrations, participate in inquiry-based discussions and receive make and take experiments to continue the learning at home. Mad Science after-school program offers children a chance to see just how cool science can be even outside of the classroom setting.
Math 36 Club
The 36 Club Math Program helps students master the basic math facts, emphasizing fast recall. The club supplements the implemented math curriculum taught in the classrooms. The basic 100 math facts (0+0 to 9+9) have been trimmed down to 36 facts by eliminating the 0's, 1's and all the reverse facts. All four math processes are included in this program. Facts will be passed off in the following order: addition, subtraction, multiplication and division. Math 36 Club members practice at home nightly and once a week they are tested by a parent volunteer. When they have passed the addition problems, they start the subtraction flash cards. When your child passes division, they try for "The Humdinger" which is a timed mix of all four operations. The program is given to grades first through fourth. The children love the challenge and the teachers are see results.
School Band
The Blessed Sacrament Band Program is a fun, challenging opportunity to learn to play a band instrument. With no musical background required to start, the band is open to any interested student in the 4th-8th Grades. Band runs the entire school year and lessons are held one time per week paired with home practice. Learning to play a musical instrument is a fun and rewarding educational experience that will benefit students throughout their school years and beyond.  Band members learn to play an instrument and develop important life skills such as cooperation, critical thinking, diligence, and dedication. Some of the instrument choices we offer include saxophone, trumpet, trombone, snare and bass drums, and bells.  Our band performs throughout the school year at school concerts and other events, including the annual Diocese Band Festival.
Ski and Snowboarding Program
This winter program is available to students 2nd through 8th Grades.   As with all extracurricular activities at Blessed Sacrament, our goal is to have fun and learn while building new skills. Ski Club allows students to enjoy the world class ski and snowboarding terrain found in our back yard, the Wasatch Mountain Range.   All skill levels are welcome.
Student Council
A Student Council is organized each year and student officers are elected to represent the students of Blessed Sacrament Catholic School. The Student Council is moderated by two faculty members. The council gives students the experience of accepting responsibilities and serving others. The Student Council generates increased school spirit, pride, and responsibility. The Student Council is open to 5th, 6th, and 7th grade students who participate in the elections each spring. Students in 7th and 8th grades are eligible to be school officers. Each grade also has a class representative. Representative elections are in the fall. Student Council members must maintain a minimum of a 3.0 grade point average and may not have below a C in any non core subject and/or in conduct and effort. Student Council members also uphold the guidelines of the Code of Conduct Policy and are awesome role models of our school. Blessed Sacrament Student Council members are not only leaders of the school, but of the community as well. These students are voted on by their peers and provide the students at Blessed Sacrament the finest representation in their student body.
Throughout the year, the student council members organize and participate in many community service projects such as a canned food drive and collecting Christmas presents for homeless families. They also work with the Pre-Kindergarten and Kindergarten students. Every morning, lunchtime, and afternoon, the student council members assist these students in and out of their cars to ensure their safety.
Being on Student Council at Blessed Sacrament School is a fun way for Middle School students to practice their leadership skills for high school while learning the importance of serving their community. The students get together twice a month and have a fun time planning, organizing, and implementing new ideas and activities for each school year.