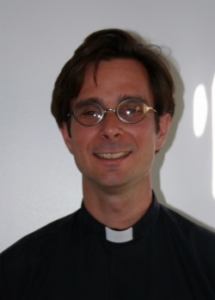 By Marie Mischel Intermountain Catholic
(Editor's note: This is one in a series of profiles of the priests who have been given new assignments as parish administrators in the Diocese of Salt Lake City. Appointments that might have been made as "pastor" were made as "administrator" in accordance with canon law when a diocese is without a bishop.)
SANDY — On Aug. 1, Blessed Sacrament Parish will receive its third pastor; Msgr. Robert C. Pollock founded the parish in 1972, and Msgr. Robert R. Servatius has shepherded it since 1986. As Msgr. Servatius prepares to retire, Fr. Samuel Dinsdale has been appointed to lead the parish, his third assignment as pastor since he was ordained in 2003.
A graduate of St. Joseph Catholic Schools in Ogden, Fr. Dinsdale "considered being a priest throughout my life, in fits and starts," he said, a call that he felt even more strongly as a sophomore in college, "but I just wasn't ready" at that time.
He spent that summer working for the forest service, giving tours in Vail, Colo. and spending his free time reading philosophy. When he returned to Utah State University that fall, he changed his major because he realized how tight the job market was for naturalists, he said.
Graduating in 1997 with a degree in liberal arts and general business and a minor in philosophy, he decided the time was right to discern whether he had a priestly vocation. He enter St. Patrick Seminary in Menlo Park, Calif., and six years later was ordained a priest by the Most Rev. George Niederauer, eighth Bishop of Salt Lake City.
His first assignment was as parochial vicar of St. Therese of the Child Jesus Parish in Midvale, which included serving as sacramental minister at several central Utah missions. He then moved to St. Mary of the Assumption Parish in Park City. His first assignment as pastor was at St. Patrick Parish in Salt Lake City; in 2010 he was assigned to St. Marguerite Parish in Tooele, where he has served for the past six years.
"Fr. Dinsdale has been both very generous and faithful in responding to the needs of both the parish to which he has been assigned as pastor and to the needs of the diocese," said Msgr. Colin F. Bircumshaw, administrator of the Diocese of Salt Lake City. "I was pastor of Saint Joseph Parish when he celebrated one of his first Masses as a priest in the park in front of St. Joseph Elementary Grade School in 2003. He generously followed me as chairman of the Diocesan Liturgical Commission. He is faithfully present at any of the communal penance services he is asked to participate in, and serves on several other diocesan boards – like the Board for the Ongoing Formation of Priests. He is a kind person who has always shown an interest and concern for social justice in the Church and society."
For Fr. Dinsdale, the most fulfilling ministries of his priesthood are those "related to education and formation to people who are open to it," he said; he also enjoys working with people as they develop their own callings. "What's more life-giving for me is to see people who find that they enjoy ministry and working with people."
Blessed Sacrament Parish, with 700 registered families, is slightly smaller than his current assignment, which has 800 registered families, he said. However, the school is larger by about 100 students.
A few of his favorite things are cross-country skiing, mountain biking and "a good cup of coffee," he said. He knows that people can have different opinions and perspectives on matters, "but we've just got to be nice to each other" and show respect, he said.
He credits Jay Hart, a teacher at St. Joseph High School, with introducing him to existentialism when the class was assigned to read "The Stranger" by Albert Camus; in college he followed that with books by Kafka and Kierkegaard. Currently, he's reading a book on Eastern religions by Thomas Merton.
"I used to read novels, but now I find that if I read a novel I feel like I'm wasting my time; I feel like I should be reading either on Scripture or Church history or some ministry," he said, adding that many times it's difficult for a priest to separate his ministry from his personal spirituality.
"Of course they're going to connect, but they shouldn't be one and the same thing," he said. "Ideally your spiritually and your relationship with God flows over and from the excess comes your ministry," but for priests many times the ministry is at the center of their lives, "and if there's any little bit left that's for God or for yourself."